CELT Athens
3, George Gennadiou Street Athens 10678
CELT is an established teacher training centre and language teaching - English and Modern Greek.
It is situated in the heart of Athens, an exciting European city with so much to do and see. Our tutors are creative and innovative whether you decide to take an online or an offline course.
Please check our website for a variety of group or 1-2-1 courses. Courses will run if we have a minimum of six learners
Teens are accepted but only as a separate group or in family group course.
Akredytacje:


Otrzymasz 5% rabatu od ceny nauki rezerwując swój kurs na langart.net
Ogólne informacje o szkole
Status operacyjny szkoły COVID-19: Onsite: open for small groups. Online: Open for groups up to 12 students
Minimalny wiek słuchaczy: 14
Długość lekcji: 50 min
Maksymalna wielkość grup: 12
Średnia ilość osób w grupie: 8
Ilość sal lekcyjnych: 4
Rok założenia szkoły: 1989
Test poziomu pierwszego dnia w szkole: nie
Najbliższe lotnisko: Athens Airport (Eleftherios Venizelos airport)
Odległość od najbliższego lotniska: 18,5 km
Szkoła czynna w godzinach: 09:00
Odległość od lotniska: ATH-Athens International Airport 18,5 km
Wyposażenie szkoły
Czytelnia
Darmowy internet bezprzewodowy
Drukarka do użytku uczniów
Kafeteria
Kserokopiarka dla uczniów
Kuchnia do użytku uczniów
Sala do nauki własnej
Świetlica z telewizorem
Udogodnienia dla osób niepełnosprawnych
Recepcja przystosowana dla osób niepełnosprawnych
Toaleta dla niepełnosprawnych
Wyposażenie klasy
Interaktywna tablica we wszystkich salach lekcyjnych
Klimatyzacja we wszystkich salach lekcyjnych
Ogrzewanie we wszystkich salach lekcyjnych
Pomoce audiowizualne we wszystkich salach lekcyjnych
Cena obejmuje
Darmowy certyfikat po ukończeniu kursu
Internet bezprzewodowy w szkole
Test językowy pierwszego dnia kursu
Test językowy przed przyjazdem na kurs
Zorganizowany program pozalekcyjny na terenie szkoły
Materiały do nauki:
wliczone w cenę
Program pozalekcyjny
| Zajęcia pozalekcyjne | W cenie / za dopłatą | Odległość od szkoły |
| --- | --- | --- |
| Gotowanie | 30 € | 2 km |
| Taniec | 50 € | |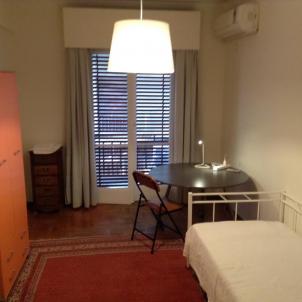 Apartament Furnished room in shared flat 1
Bezpłatne anulowanie do 7 dni przed przyjazdem
Wybierz kurs
| | |
| --- | --- |
| Zakwaterowanie od - do | Ceny w oparciu o zakwaterowanie od niedzieli przed kursem do soboty po kursie |
więcej
mniej
Zasady i warunki
GENERAL TERMS AND CONDITIONS APPLICABLE TO THE BOOKING.
Description of the booking process, deposit payment, balance payment
1. Making a booking.
1.1 The booking will be made via langart.net through an online booking system.
2. Deposit payment
2.1 A deposit will be charged to the student at the time of booking.
3. Balance payment
3.1 The balance will be paid by the student to the school directly.
3.2 For the payment of the balance, the school will issue an invoice to the student, with the deposit deducted, and forward it to the student along with confirmation of enrolment and other documents relating to the booking. The invoice will include the methods of payment accepted by the school, as well as the deadline for payment.
For latest booking terms, to include changing the booking, cancellations, withdrawal from the course, and others, see below:
PAYMENT OF FEES & ACCOMMODATION
Students who have not paid their fees in full or a deposit (if paying in instalments) by the due date will not be allowed to commence a course
You must write your name on all bank transfer documents. If you are paying by bank transfer, please send us a copy of the bank transfer documents with the registration form via email.
CELT is not responsible for your bank charges. ALL payments must be received NET, and all bank charges are the student's responsibility.
PAYMENT OF TUITION
Intensive (4 weeks): Tuition fees must be paid in full the latest 4 weeks before the start of a course.
Part-time and online courses: Tuition fees may be paid in 3 instalments – 1st payment of fees to be made at the latest 4 weeks before the start of a course; 2nd and 3rdpayments during the first week of the 1st and 2nd calendar months of the course.
COURSE ARRANGEMENTS
CELT reserves the right to change course arrangements and fees if necessary. All courses run subject on demand.
OFFICIAL HOLIDAYS
Course hours will not be reduced due to breaks in programmes due to official holidays.
RULES
CELT has a set of rules which apply to behaviour in the Centre and in accommodation arranged by the Centre. These rules state, for example, that students must attend classes, must not drink alcohol and must not use, possess or supply drugs. Mobile phones must be switched off during lessons. Smoking is not allowed within school premises.
Students must come to sessions appropriately attired in a manner expected of teachers. No one will be allowed in sessions or teaching practices wearing revealing clothes. Trainees must be respectful to tutors, course mates, students and CELT admin staff. Inappropriate behaviour will not be tolerated. Failure to follow these rules of conduct and attendance may result in the centre asking trainees to leave immediately with no refund of fees.
Similar rules apply to classes conducted online.
CANCELLATION POLICY
If you have registered but have to cancel your period of study more than 14 days before the start you must pay a €150 cancellation fee.
Less than 14 days before the start – you must pay the equivalent of one week's fulltime tuition (and accommodation if an arrangement has been made for you by the centre).
Students who withdraw from a course due to sudden illness or personal problems will be given the opportunity to re-enrol in a later course, provided there is a vacancy and a valid medical reason.
Students who withdraw after the beginning of the course, giving stress-related conditions as a reason, will not be offered a refund of their course fees.
Students who withdraw from the course due to health problems or disabilities, of which the centre was not notified prior to the course start, are not entitled to a refund and it is upon the centre's discretion to offer them a place on a later course – each case to be examined separately and on its own merits.
Full course fees will be refunded only if CELT ATHENS cancels a course
ViSA ISSUING
We do not issue visas for short term courses but may consider this in the case of long term programmes
Konfigurator kursu
Konfigurator kursu
Wybierz datę rozpoczęcia, długość oraz rodzaj kursu i oblicz jego cenę. Kursy rozpoczynają się w poniedziałki
Zakwaterowanie
0 €
Opłata od rezerwacji zakwaterowania

0 €
Rezerwując na langart.net oszczędzasz:
0 €
Płatność w momencie rezerwacji

00 €
Aby zarezerwować miejsce na kursie, należy dokonać niewielkiej wpłaty częściowej, która będzie odliczona od końcowego rachunku
Saldo do zapłaty

00 €
Wpłaty tej dokonasz w terminie 14 dni przed kursem, po otrzymaniu rachunku ze szkoły
Rezerwując kurs na langart.net:
Zaoszczędzisz 00 €
Zarezerwujesz kurs po najniższej cenie
Zapewnisz sobie miejsce na kursie po dokonaniu niewielkiej wpłaty częściowej